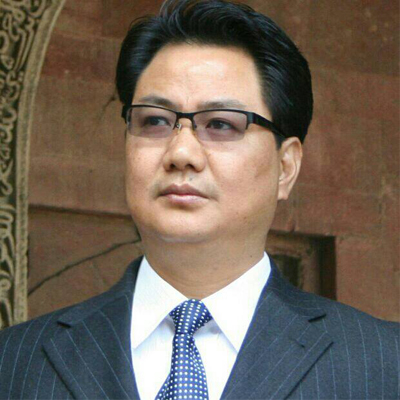 By Manan Kumar
Minister of state for home, Khiren Rijiju, who took charge on Wednesday, spoke exclusively to dna's Manan Kumar on various issues ranging from Chinese incursions in border areas to the assimilation of the northeast people and if Delhi will be tough with Islamabad on terror.
What reasons do you attribute to BJP's resurgence in the Northeast?
There were two broad reasons: first, utter dissatisfaction of people from the misrule of Congress government whose popularity steadily diminished in the last few years. Secondly, the emergence of new hope in the form of Narendra Modi. Earlier, people in the Northeast used to think that BJP could never come in strength alone. In 2004, I broke that jinx and won the Lok Sabha giving confidence that the BJP can win in the northeast on its own. The fillip to this belief came when Modi became the prime ministerial candidate. On my seat of Arunachal West, Modi had definite impact in the urban pockets while in rural and remote areas the popularity of the local candidate worked.
In Assam, especially in the plains, it was purely a Modi wave that made the BJP win. Modi gave them the hope to deliver against Congress's misrule.
Do you think that the BJP has put itself firmly in the Northeast to outsmart the Congress in future elections?
Assam, Arunachal and Meghalaya have become fertile grounds for the BJP, and its impact will spread further in other states. In my own case, I secured more votes than all the parties put together on both the seats of Arunachal. Such backing of the people will soon see a reflection in coming assembly elections too. I'm sure that our performance and delivery in the Centre will further boost BJP's popularity.
What are your priorities for the home ministry?
My belief is that we are a strong nation so we must behave as a strong nation. When anti-social elements try to have an upper hand and become a threat to security, we must deal with them strongly and firmly. At the same time, we must not do anything in a sweeping manner that will take away the fundamental rights or the human rights of the citizens. We need to strike a balance to tread both softly and firmly. Naxalism that wants to overthrow democracy and has no love for tribal or people should be dealt with strongly.
Will there be policy changes in the Union home ministry?
We will assess all the policies the UPA government had adopted on various issues like Naxalism, northeast insurgent groups, etc, and deduce whether they have been a success or a failure and accordingly set the agenda for the future. The policies and agenda will be spelt out clearly once the home minister Rajnath Singh takes a view.
\
You have been vocal on the issue of Chinese incursions on Indian land. How do you plan to deal with the issue now that your government is in full majority?
My principles and ideology won't change just because I am in the government. As an MP, I have spoken several times what is to be done and what is the expectation of the people in border areas. The issue related to China is very sensitive. It is not only our neighbour but a very powerful country and a world economic power. Our PM has already spelt out that we don't believe in expansion but at the same time, we will not compromise on national interest. In dealing with China two important things come to my mind. One, incursions committed by the Chinese Army in the border areas from Arunachal Pradesh to Ladakh. The other is the issue of stapled visa that China has been issuing to Arunachalis. These are the two irritants in our relations and have led to cancellation of many of our visits. When we meet Chinese officials next time, I will give inputs as a minister to the MEA and Prime Minister. I am hopeful that our Chinese counterparts will respond positively to our desire to maintain peaceful coexistence. I believe the stapled visa issue will be settled very soon.
So with China, the BJP will deal more firmly than the Congress-led UPA government did?
Definitely, forceful in a sense that we will try to prevent occurrences of such incidents. After an 'incident', always comes a crisis. To avoid a crisis, you need to generate confidence between two countries as well as strengthen our position at the ground level.
A major problem with the border area people is that they do not have good infrastructure, which is resulting in migration and thinning of our population. How do you intend to deal with this issue?

This is primarily because of lack of policy and planning. For instance, we should have had advance landing airstrips in border areas but little work was been done on this front. Incursions can be taken care of if infrastructure is in place and help local people stay there without facing hardship.
How do you view Modi's meeting with Pakistan counterpart Nawaz Sharif?
The career of a new government should start on a positive note. This kind of meeting was more of a courtesy meeting, not expected to be a detailed one. Being the largest country in the SAARC region, India took the initiative and it was a great political statement by Modi that India wants to take the lead here. A big message has gone out to the world.
But will the government soon talk about the basic issues of terrorism with Pakistan?
Serious issues have been raised with Pakistan and the Pakistan premier has also assured of taking concrete steps. So this is a solid beginning to a very complicated issue. I think it too early to judge anything but things seem to be moving in the right direction.
Delhi has been witnessing a grave problem of assimilation of people of north-eastern states. How can this be set straight?
It is a national problem. If the country has to progress, then we have to co-exist otherwise the nation cannot move forward. People blame it on government apparatus, the police, etc. It is actually a problem of the mindset. This issue is beyond governance. The need is to continuously sensitise people on a large scale to make people liberal and open towards each other. On the administrative end, the need is to provide better policing, help centres and transit camps. As a minister, I will now have the first hand information of these issues and will try to resolve them by providing lasting solutions.