Following the lifting of prohibition, the vineyard growers' societies of Mizoram, who also own the twin wineries at Champhai and Hnahlan, have suffered a huge hit.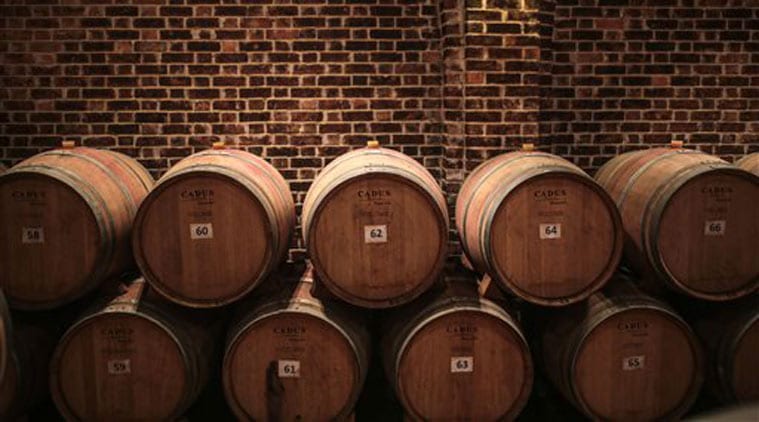 For the majority of consumers, too, any form of alcohol would do; choosing between spirits and wine was a luxury only for wetter places.
By Adam Halliday

Champhai, Jun 12 : It was an overcast July afternoon last year when Mizoram's legislative assembly decided to replace an 18-year-old prohibition law. The lifting of prohibition unleashed a cocktail of sentiments. Many in the state opposed it, but just as many were happy and excited to drink legally after a generation had been deprived of this, save through the bootlegs and moonshine route.

Besides, there were some who did not really protest at the start. In Mizoram's eastern corner bordering Myanmar, home to North-east India's only vineyards, the effects of lifting prohibition began to manifest themselves gradually in the form of declining wine sales. "By the end of the last financial year, our sales had fallen to roughly half of what it used to be in previous years (when prohibition was in place)," says C Zohmingliana, assistant secretary of the Champhai Grape Grower's Society, consisting of 279 families who plant the native American Vitis labrusca grape variety used in making wine.


Almost immediately after the new law was passed — actual legal sales of alcohol began only eight months later — bootlegged spirit volumes registered a jump and prices dropped. This had to partially do with community organisations opposed to public drunkenness curtailing street patrolling and also government agencies previously tasked with upholding the ban on liquor sales finding themselves in a new role — facilitating its plentiful presence.

The potential market for wine in a dry state was realised quite early even after the enactment of the prohibition law. The Mizo National Front government, in 2007, braved Church opposition to make an amendment to the 1997 Act allowing manufacture, sale and consumption of local port wine. As realisation dawned that wine production could mean a source of livelihood for thousands, even those opposing chose to remain silent.

The government further gave both the Champhai and Hnahlan societies seed funds of Rs 80 lakh each — which they topped up with individual loans of Rs 160 lakh from the Mizoram Rural Bank — to build wineries. Apart from these, they received two 10,000-litre capacity fermentation tanks each two years ago from the state horticulture department. State support, both financial as well the amended prohibition policy, helped in boosting sales of the two wineries. Hnahlan alone recorded annual sales of between 1.5 lakh and 1.8 lakh bottles from 2010 (when actual production began) and the financial year ending March 2014. That translated into an annual turnover of around Rs 2.3 crore for this smaller of the two wineries.

But the lifting of prohibition has changed things drastically. During 2014-15, production rose to over 2 lakh bottles, but more than 80,000 remained unsold. The farmers' collectives are now struggling to stay afloat. Champhai's Zohmingliana notes that roughly two-thirds of all the grapes produced by the society's members are bought by the winery.

The Champhai winery has now started supplying concentrated grape juice to a regional manufacturer for use in its line of liquor brands. In January, the society entered into an agreement with Radiant Manufacturing to supply 3.6 lakh litres per year to the company, which owns the Vinho Porto brand of port wines sold across North-East India and Bhutan. Last month, the first two truckloads of 16,000 litres of concentrated juice were flagged off from the society's facility. Radiant's CEO, Bheeshma Chand, informs that his company has been using grape juice concentrate sourced from Goa, Maharashtra and Karnataka for its wine manufacturing. Mizoram's grapes are not only better, but the proximity to Radiant's facilities makes this an economical raw material sourcing arrangement, he adds.

The Hnahlan growers' society's winery, which is 60 km away, has meanwhile sought to experiment with launch of new brands, while also making small batches of grape brandy. The collective, with 156 grower-members, has even hired a new Goa-trained winery manager, PB Lalrinfela, for making aged wine and applying for licences to market them under new brands in the liquor shops that have opened up following lifting of prohibition.

"We can start selling the aged wine in a few months. The grape brandy batches that we have made have all disappeared as sample drinks to visiting officials. We've been dry so long, you know," he laughs.