The Young Mizo Association has a member in virtually every Mizo home, and combines aggressive social activism with counselling for addicts.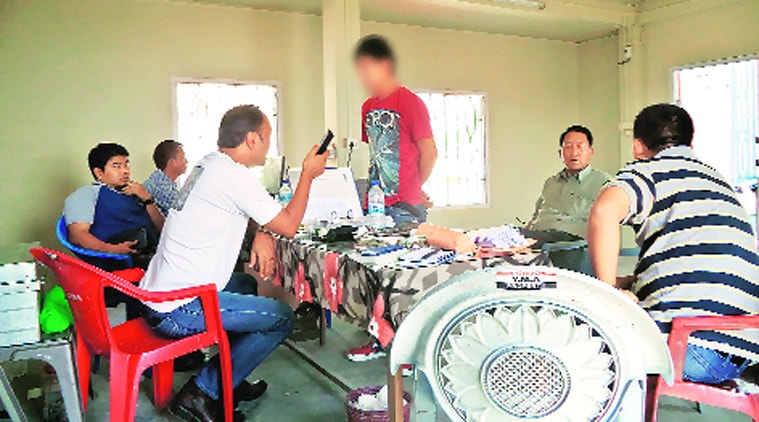 At their small office in Aizawl, YMA volunteers speak to an addict, asking him to come for counselling, and to try and wean himself off heroin. (Source: IE photo by Adam Halliday)
Aizawl, May 12
: Mizoram's largest voluntary organisation, Young Mizo Association, has re-activated an anti-narcotics team after nearly a year and a half. In the first three weeks, 36 volunteers of the SRS or Supply Reduction Service have combed much of the state capital and its outlying areas, confiscating heroin estimated to be able to give a high to 1.5 lakh users.
The SRS has caught roughly 400 g of heroin, 500 g of marijuana, and 19 strips of the pharmaceutical preparation alprozelum, the most widely-abused drugs across the state. Their achievement measures up well against the combined successes of various official law enforcement agencies in the first three months of the year: 1,050-odd g heroin, 33 kg marijuana, 221 strips of alprozelum.

In the same 3-week period, the SRS also rounded up 221 addicts, peddlers and sex workers linked to the drug trade, and committed more than 200 individuals to counselling to wean them off the habit with the informed consent of families and relatives.

The YMA is a remarkable organisation, with members in virtually every household. Established eight decades ago to replace the Zawlbuk or traditional tribal bachelors' barracks, it has remained an integral part of society, a voluntary force that is activated both in times of crisis — disasters, mishaps, deaths — and at happy times such as tribal festivals.

The group has always been opposed to intoxicants — but it set up formal anti-narcotics units for the first time only in 2005, and has since complemented the work of official law enforcement agencies.
The official death toll from drug abuse in Mizoram stands at over 1,300 since 1984. The number of addicts today is estimated at 25,000-30,000. That's a big number for a state with a population of just over a million.

YMA-backed teams such as SRS, Demad Reduction Service and Central Anti-Drugs Squad have sometimes attracted controversy over violent incidents — yet, their voluntary anti-narcotics movement has caught the attention and appreciation of various entities including the union Ministry of Social Justice and Empowerment, which in 2013 bestowed upon it the first national award for helping prevent alcoholism and substance abuse.

However, with a change in the YMA's top leadership in the last months of 2013, the anti-narcotics movement quietly lost thrust. Coincidentally, this came around the same time as the street price of heroin dropped by a fourth, and an accelerated growth in better-organised smuggling operations, particularly of pseudoephedrine, used by some of Myanmar's ethnic armies to manufacture the world's top drug, methamphetamine.

The anti-drug movement revived on April 11 — after numerous requests from families of addicts, according to YMA leaders. The organisation chose the new SRS team's members carefully, and its head Vanlalrema Rokhum has said it will tread carefully to avoid any controversy this time.

How do law enforcement agencies look at YMA's activities? Senior officials say the laws that bind them often do not apply to the YMA, for which reason the volunteer group is able sometimes to pose a bigger threat to smugglers, dealers, addicts, and even conniving officials.