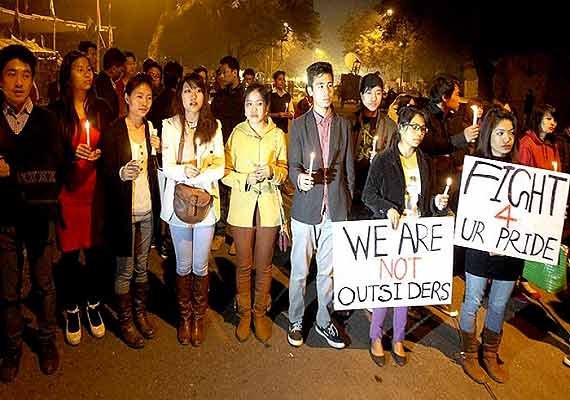 New Delhi, Nov 24 :
Crime against people from North-East in the national capital has witnessed a steady rise with Delhi Police receiving 650 calls related to crime this year.
According to data compiled by Delhi police, till November 15 this year, it has received a total 847 calls out of which 645 calls were related to crime.
Police converted 139 of these into FIRs. The number of FIRs stood only at 74 from the people of this region last year.
The highest complaints numbering 259 were received from South Delhi district followed by South East which stood at 53.
The lowest number of calls, six, were received from North East Delhi district. The number of complaints received from other districts were, North West - 44, South West - 40, North - 35, West - 32, East -19, Central - 15, New Delhi - 15, Outer - 10, Crime & Railway - 8 and Out of Delhi - 8.
When it comes to police station wise data Vasant Vihar got the most 58 calls followed by Safdarjung Enclave - 48, Kotla Mubarakpur - 23, Malviya Nagar - 21, and Mukherji Nagar - 20.
These are all areas with considerable population from the North-East. There were 159 cases related to quarrel which topped the list. 56 cases of eve teasing were reported while there were 22 cases of cyber crime/racial discrimination through social media etc.
13 cases were of molestation while six cases of rape and four cases of attempt to rape were also reported. Last week, three youths from the Northeast were found dead within 48 hours in the city.
A 32-year-old PhD scholar from Manipur was found murdered with his neck slashed at his home in south Delhi's Kotla Mubarakpur area on Wednesday night. The deceased was identified as Keashung Zingram Kengo who had completed his Ph. D from Tata Institute of Social Sciences.
In another incident reported from Malviya Nagar area, a Manipuri student was found dead under mysterious circumstances at his residence on Thursday morning. The same night, another youth from North-East had died after he apparently fell from the staircase at his home in Munirka area in south Delhi.
He was in an inebriated condition when the incident took place.