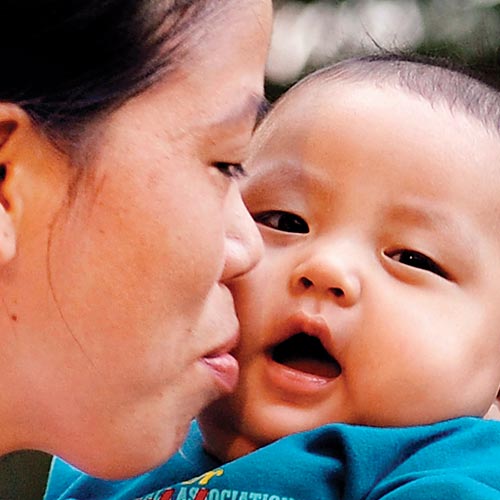 2012 Olympic bronze medallist Mary Kom kisses her son in Mumbai on Monday.
In view of the increase in number of rapes being reported in the country, Mary Kom urged women to learn some sort of self-defence to combat attackers.
In the city on Monday to receive an award, the boxer said, "Rapes can be minimised if women learn a thing or two about selfdefence."
She recalled an incident from her younger days when she fought a rickshaw driver who was passing lewd comments at her.
"I will never forget the incident which happened when I was just learning my trade. I was going alone for mass in a rickshaw, clad in traditional Manipuri attire. On the way, when we reached a relatively lonely road, I realised that the driver was giving me dirty looks and was passing lewd comments. I got down from the rickshaw and punched him in the face, hitting him so badly that he couldn't even get up.
"Had I not learnt a little bit of boxing then, there might not have been any Mary Kom representing India in the Olympics. God only knows what would've happened to me," she added.
Recovering from a gall bladder operation, Mary, who idolises boxing legend Mohammed Ali for his will power, said she has begun light training for next year's Commonwealth games in Glasgow.
"My utmost priority now is to qualify for the Commonwealth games, although a medal at Rio is very tempting," she said.
The five-time world champion is currently dedicating her time to a boxing academy she has opened in Manipur in 2007.
"I started the academy because people came up to me and asked me to teach them the sport, and I couldn't say no, because I want better boxers to emerge and make this country proud," she said.
Though the state government has given her land, she is still looking for funds to have a state-of-the-art training facility.
"I want people to support my academy, but I'm not going to go and ask for funds. That should come spontaneously from people," she added.
Speaking of popularising the sport, Mary Kom says she is excited about a movie being made on her life, starring Bollywood starlet Priyanka Chopra.
"Just like Chak De! India inspired people to take up hockey, I hope people will be inspired to take up boxing by watching the struggles I had to face. Though the movie is bound to have a little masala, like the after-parties, most of it is genuine and the producers are taking a lot of trouble to get everything perfect. Priyanka even came to my small house in Manipur to learn what it's like to grow up there," she said.
Asked if it makes sense to have a Punjabi girl playing the role of a boxer from Manipur, Mary Kom said Priyanka was the indeed the right person for the role.
"A superstar is playing my role, it couldn't get bigger for me.
What more can I ask for? I'm sure she will fit the skin of my character and be able to inspire people," she added.