By KVL Narayan Rao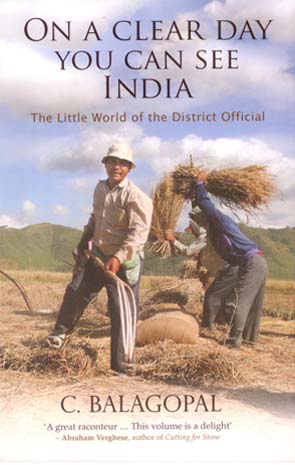 Chandrasekhar Balagopal (Bala) is a brilliant man. Apart from outstanding academic achievements at school and university, Bala was selected for the IAS in 1977 and was allotted the Manipur cadre. He left the service in 1983 to become a very successful entrepreneur in Kerala. Thirty years later, having hung up his boots, Bala has taken to writing and his first, very impressive offering is his diary of recollections and anecdotes from his time in Manipur as a twenty something , wonderfully titled On A Clear Day You Can See India (HarperCollins, 2013). I was naturally very keen to read this book and I am glad that I have.
The very first chapter explains the title when, as a mere probationer in Tamenglong in the West District of Manipur, his Deputy Commissioner (DC) takes him to a vantage point in the district and pointing with his walking stick, says, "East is in that direction...Ukhrul and Burma....To the north lie Nagaland and Assam....To the south lies Central District, then South District, and then Burma....and there, to the west, my young friend, on a clear day, you can see India". For any young person at the time, living in a remote and inaccessible part of the country thousands of miles from home, many wistful glances would have been made westwards, towards home and the more familiar parts of India.
That Bala liked and admired his first DC, "RN", is very apparent from his narrative. He begins with the DC suspending the Block Development Officer (BDO) who had drawn funds, and provided fictitious accounts, towards the cultivation of a pineapple plantation that clearly did not exist. Later, he is witness to a conversation that the DC has with the Chief Secretary of the state who wants prohibitory orders under section 144 to be imposed and a dusk to dawn curfew be declared over some incident. The DC does not believe that the situation warrants it and lets the superior officer know. On the latter's insistence, the DC refuses to comply, pointing out that any attempt to interfere with his work in his capacity as the District Magistrate would amount to contempt of court. Later the DC tells the young officer, "Of course there will be consequences. I will probably be transferred". However, "in a place like Manipur, one has every reason to be honest and correct. You are anyway thousands of miles from home. If you are transferred, you are only going to be a few miles further from home....So, what the hell?"
The young and idealistic Bala had learnt an important lesson. Always stand up for what is correct, the right thing to do. He does just that in a later chapter when he rejects a list of beneficiaries for a government scheme drawn up by a Minister's half-brother for a correct, properly drawn up list, only to be transferred the very next day! Another time, when he was supervising the imposition of a curfew, a senior officer directed him to issue curfew passes to a local bigwig who wanted to host a party to which he had invited people from Kolkota and Guwahati! Bala refused and on being threatened that important people would not be happy at this development, asked the person to leave telling us, "Something in me snapped at this, and images of the previous night rolled past my eyes--of young men being beaten for violating curfew, suspected insurgents and security forces locked in a deadly cat-and-mouse game, people on both sides of the law doing their chosen jobs with commitment and fear and heroism and desperation. And here was this smug fellow, grinning and worrying about his party."
There are other incidents and events, from the normal to the extraordinary, that Bala talks about. Being visited by Peter, "SDO, Ukhrul" on his first day in office, when Bala was in fact the SDO there, and seeing the latter's surprised reaction, the assurance, "I am with the Revolutionary Government of Manipur" (Bala's description of his feelings and reaction at being visited by a member of the underground is worth reading); the wisdom of an elderly head constable who let the chilly winds of the season disperse a large group of protesters that was picketing the Raj Bhavan, while he, the man in-charge, was fretting over the possible use of force; the visits to the only real book shop in Imphal; evenings spent with the two Malayalis in town, the catholic and protestant priests, and their good natured banter; the conduct of elections from the point of view of a young officer; tea with the distinguished L P Singh, then Governor of Manipur (and most of the north east) and so much more.
Bala is a wonderful storyteller. He has an easy style and all the chapters of his book are truly entertaining, full of wit and humour on the one hand while being sensitive and poignant on the other. He talks about a little known but troubled part of India through the eyes of a young man on a quest to do something for his country. While he stays true to each incident he describes and has chosen them for their "entertainment value", the political and social issues, conflict and strife and the colonial character of the administration are never far away. This book is a must read for all civil service aspirants, and indeed most young people on the threshold of a professional life. It will find pride of place in my library.
Disclaimer: KVL Narayan Rao is Executive Vice-Chairperson, NDTV, Management.