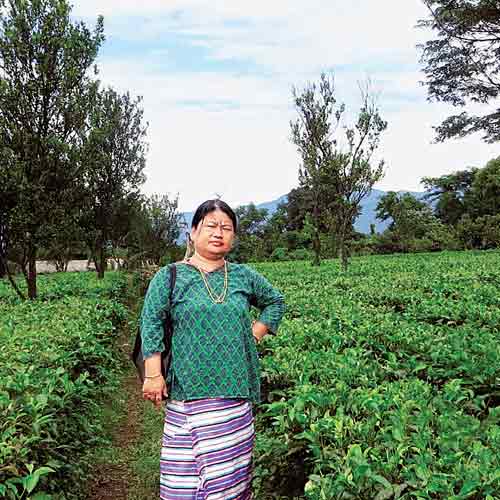 By Prasanta Mazumdar
Wakro (Arunachal Pradesh), Sep 24
: Basamlu Krisikro - the "Tea Lady" of Arunachal Pradesh. Songelum, 38, spent all his life cultivating opium until he met Basamlu Krisikro – the "Tea Lady" of Arunachal Pradesh.Today, he is one among many inspired by her to replace their opium fields with small-scale tea plantations in the state's Lohit district, where tribal Mishmis are in majority. Opium fetches four times the money for a fraction of the labour, but Songelum says he has no regrets about walking the path of tea.
In a place where 99 families in every 100 households grow opium to eke out a living, he says nobody knows better than Basamlu about how challenging it is to motivate people to take up an alternative source of income. "When you go and tell them about an alternative means of income, they suspect that you have come to destroy their livelihood," Songelum said.
A post-graduate from the Delhi University, Basamlu, 39, was working on orange plantation till an oncologist prescribed a daily dose of organic green tea for her cancer-struck mother Gutitun, whose illness has since been arrested. In order to avoid travelling miles often to get the chemical-free beverage from Assam's Dibrugarh town, she was struck by the idea of growing it in her backyard. At that time, the production of oranges had plummeted drastically.
"As green tea is sustainable, I thought of promoting it among locals," she said. From 2009 to 2012, Basamlu grew organic tea on a piece of land measuring 45 bighas. The tea is processed in her own factory and sold to both local and international buyers .
Last year, she got a produce of 1,800kg.
"Being a cash crop, opium gives you easy money. People get drawn to this very easily as the profit is tens times of what you invest. So, it was very challenging for me to motivate people about growing tea," Basamlu says.
Today, she has been able to inspire at least a dozen opium farmers to carry out tea plantation.
Not only does she supply tea plants to them on a deferred payment basis, but she also buys their organic harvest.
Songelum says opium is like an ATM. "No matter where you are and what the time is, you will get buyers at the drop of a hat," he says. And one needs to work hard for only three to four months from December to March to make a 'decent' living for rest of the year, he said. "12 grams of opium will fetch you Rs650. So, if you have a land measuring one hectare, you need just Rs6,000-Rs7,000 to get a produce of six to seven kgs a year." The Lohit, Anjaw, Tirap and Changlang districts, bordering China, are notorious for poppy cultivation. Wakro alone has around 12,000 to 13,000 opium cultivators.
Locals say the buyers are all locals who smuggle the narcotic into the south-east Asian countries through the 'Golden Triangle'.
Straddling around 367,000 square miles that overlaps the mountains of Myanmar, Laos and Thailand, the Golden Triangle is a major opium-producing area of Asia. Doctors say opium addiction is very common among opium growers.
According to Basamlu, anti-drug agencies come to Wakro only to destroy crops and not to understand the root cause of the problem.
"What is imperative is awareness at all levels. The government could set up de-addiction camps and carry out massive awareness campaigns to curb the menace," Songelum said.."Opium has ruined our society. In growing opium, people get addicted to it.
Economic backwardness is the main reason why they go for opium cultivation. Besides, people's basic requirements have also increased. They want their children to attend private schools, possess latest household appliances, get access to better healthcare services etc. So, unless you give them an alternative, they will go on cultivating opium," Basamlu points out.