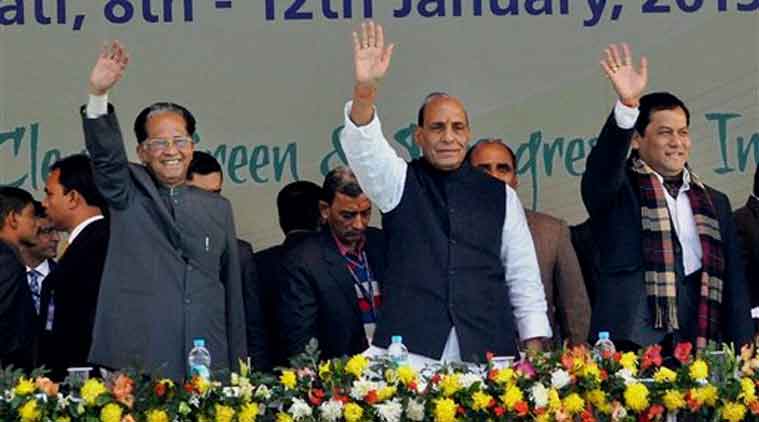 Home Minister Rajnath Singh, Assam Chief Minister Tarun Gogoi and Union Sports Minister Sarbananda Sonowal wave at the crowd during the closing ceremony of the 19th National Youth Festival in Guwahati on Monday.
Guwahati, Jan 13
: Union Home Minister Rajnath Singh said Monday that there will be no talk with any group involved in violence. Expressing concern over the growing insurgency, Singh said that the nation was passing through a critical phase and sought cooperation of the youth in tackling the issue.
Apparently refering to the recent acts of violence in Kokrajhar and Sonitpur districts of Assam that left over 80 people dead, Singh said: "I must make it clear that there is no place for violence in a democracy. Doors for negotiated settlements are open only for the groups that do not indulge in violence. The government cannot remain a silent spectator to any acts of violence."

Singh asked the people of the northeast, particularly the youth, not to allow any form of violence and insurgency to take place in the region. Saying that there is no disconnect between the northeast and the rest of the country, the minister said, "If Kashmir is India's crown, the northeast is its strong arm.

If any foreign force makes any attempt to cause harm to the nation, this strong arm will give a befitting reply," he said.

Terming unemployment as a major problem, Singh said the Centre has sought cooperation of the state government. The Centre's 'Make in India' initiative was one such initiative that would help create huge job opportunities for the youth and wean them away from digressions, he said.

Complimenting the participants of the National Youth Festival, the minister also asked them to follow the teachings of Swami Vivekananda, who he said had taught that the whole world was a family. The country's youth were capable of transforming India into a global superpower, he said.