By Manan Kumar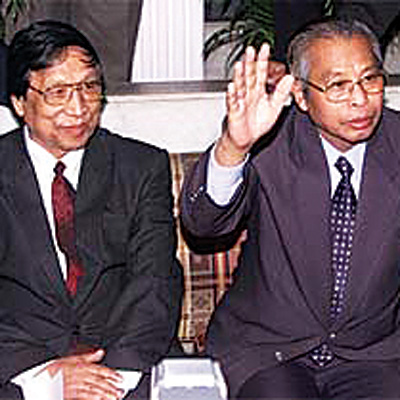 Thuingaleng Muivah and Isak Chishi Swu

New Delhi, Nov 21 : With his eyes set to have a peaceful Northeast to help expand trade with South Asia, prime minister Narendra Modi has instructed interlocutor R N Ravi to come out with a proposed settlement that could be a final solution to the simmering Naga issue.

Sources said, Ravi, former chairman of the Joint Intelligence Committee and ex-special director of Intelligence Bureau, has been asked to try and clinch a solution preferably within a year to 18 months.

Unlike former governments, the emphasis this time is not on a resolution but on a solution which, means the Centre is approaching the issue with a hardened stand of pushing for a settlement on its own terms and putting the onus to accept the proposal on National Socialist Council of Nagalim -- Isak-Muivah (NSCN-IM).

Getting rid of the baggage of previous UPA government during which the last interlocutor R S Pandey and before him Ajit Lal had worked hard in shaping up a proposed settlement, new interlocutor Ravi is expected to start the negotiation afresh to find out and lay down a new solution.

In an apparent indication to sound out Centre's tough bargaining policy, Modi has chosen not to meet the NSCN-IM top leaders -- Isak Chishi Swu and Thuingaleng Muivah who are camping in Lutyen's Delhi, just a couple of kilometres from Prime Minister's house, for past since mid-September.

This is the first time that the "proud" leaders have waited for so long to meet the PM. The earlier PMs used to give them time rather promptly.

This change also indicates if the Modi government is trying to tell the rebel outfit that the solution would not hinge on a political dialogue but within the given administrative framework which would suggest a drop down for the NSCN-IM, considered to be most formidable in the Northeast.

However, it will also sound out a clear message in general to all the other insurgent outfits in the region that the government's stand would remain tough, sources said.

Modi is expected to discuss the issue with chief ministers of both Nagaland and Manipur during this visit to the Northeast in the end of this month.

A key component of Modi's talk would be how to establish peace between warring Manipur and Naga groups who are demanding autonomy of the state's Naga-dominated hill districts and tackle NSCN-IM that wants integration of the Naga areas under a single administrative umbrella.

Observers within the government say that the tough posturing by the Centre could find answers for a lasting peace in the Northeast that is necessary to take trade with ASEAN group of countries like Myanmar, Cambodia, Vietnam and PDR Laos etc.

A peaceful northeast can help India reach its aim of increasing the bilateral trade with ASEAN to $ 100 billion by 2015 and to $ 2000 by 2022.

To take the trade to this level and beyond, Manipur can serve as a major gateway from border point of Moreh to Myanmar and beyond right up to the doorsteps of ASEAN countries.

"We are looking forward to conclusion of negotiations for an ASEAN-India Transit Transport Agreement by 2015. The Tamu-Kalewa-Kalemyo sector of the India - Myanmar – Thailand trilateral highway project is expected to complete in 2016 and will create a new dynamics of synergy of trade and cultural relations with South Asian countries," said an official of the ministry of external affairs.