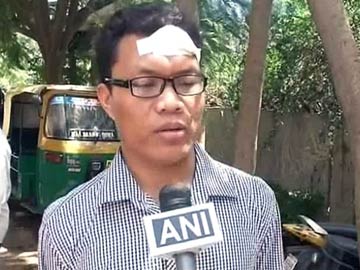 Northeast student leader allegedly attacked in Bangalore for not speaking in Kannada

Bangalore, Oct 15 :
An engineering student from the northeastern state of Manipur was attacked in Bangalore last night by men who allegedly demanded that he "speak in the local Kannada language or get lost".
Michael Lamjathang Haokip, who heads a Manipuri students' body, alleges that he and his friends were standing near a food stall when they were attacked with stones by the men. The attackers allegedly demanded to know why they were speaking in English.
"They said you are eating Karnataka food, living in Karnataka. You should speak Kannada or else get lost. They were speaking in Kannada...we nodded and they took it as an insult. They picked up stones and attacked us and I got injured," said the 26-year-old, who was badly hurt in his head.
"I don't know if those three hit us because they were drunk. Just because I am living in Karnataka doesn't mean I have to speak Kannada," he added.
A case of assault has been registered and the three attackers have been arrested.
Boxing champion Mary Kom, who is in Bangalore for a marathon event, was among those who reacted with anger at the assault on a student from her state.
"I don't feel good listening to such news. There should be unity and peace in our country, so that such incidents don't repeat," Mary Kom said.
The incident took place after midnight in the city's Kothanur area, home to a large number of students from other parts of the country.
Michael has alleged in his police complaint that a crowd that was watching the commotion supported the attackers. He was allegedly chased by a mob till he reached a police station.
The Bangalore police say they are trying to confirm whether this was a hate crime or a case of drunken behavior.