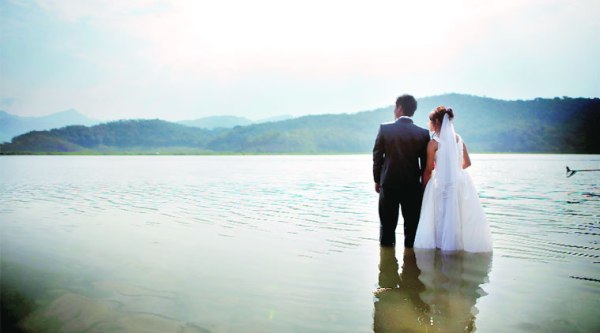 The water's lovely: Newly-weds at Rih Dil in Myanmar (Source: C Lalmuanzova)

By Adam Halliday

A day after their mid-January church wedding in the eastern Mizoram town of Champhai, Merlyn Lalrinpuii and her husband Duhawma packed their wedding outfits and boarded one of several hired maxi-cabs with about 20 close relatives, friends, make-up artists and a wedding photographer in tow, and crossed the international border into Myanmar, heading towards Rih Dil, a heart-shaped lake surrounded by forested hills.

That afternoon, having slipped back into her gown, and her husband into his suit, the newlyweds posed for the camera in front of the placid lake, strolled hand-in-hand in the surrounding meadows, rode a small blue boat, and held each other tenderly in the soft winter sunlight that sweeps over Rih Dil.

For many other newlyweds in eastern Mizoram, crossing the border into Myanmar and taking wedding photographs at the natural lake is one way to capture the most important day in their lives. Apart from its stunning beauty, its allure not only lying in its unusual shape, a wedding photograph at Rih Dil is of cultural significance as it is the "most important lake in Mizoram" — except that it is 22 km away from the nearest Mizo town and in a different country.



"We in Champhai are very lucky. We get to shoot our wedding photographs abroad," laughs Lalrinpuii. "It's a beautiful setting, and a great place for a post-wedding picnic with family and friends. Many of our friends from different towns were guests, so for them, it was a treat because they had never been there. And most of all, its heart-shape makes it unique," she says. Her younger brother, Victor Ralte, got married in April and his wedding photos at Rih Dil featured rare wild flowers in bloom, she adds with a twinge of envy.

Before the border trade began in the mid-1990s, there was no formal border crossing into Rih Dil. It is not much of a hassle these days. Those who cross the border have to register at the Myanmarese immigration post after reaching the eastern bank of the Tiau river that separates the two countries. There's no need for passports or visas as nationals of either country are allowed to enter till a certain distance into each other's territories. The western parts of Myanmar, particularly the Chin Hills, were historically inhabited by tribes that now make up the Mizo community. Even today, the dialects spoken by those settled on either side of the Tiau river are fairly similar, with customs and even traditional attire only varying slightly.

The historical and cultural linkages remain strong more than eight decades after the British separated India from present-day Myanmar, so strong that this November a massive cultural program is being planned for ethnic Zos in the eastern Myanmar city of Tahan.

In his community, C Chhawngliana, 56, was one of the first to take pictures of the lake. In his youth, he lived in Rihkhawdar, a village near the lake. The lakeside was a favourite with lovers even then.

"Once, two friends and I took our dates there. We went swimming and afterward the girls were changing in a shack that was open towards the lake. We boys stripped completely and dived into the water with a great shout just where they could see our naked bottoms. They screamed and shouted and cursed us for that," he recalls, chuckling at the memory.

Back then, the new nominally-civilian government had just been formed, and the Burmese military government kept a close watch on what was photographed within their borders, for fear military sites may be secretly photographed. Chhawngliana would use an old Minolta to secretly take pictures of the lake. In 1998, he and a friend took the negative to Rangoon and secretly got a shop to print 5,100 poster-sized copies of the photo, which they smuggled into Mizoram inside carton boxes in the back of a jeep. He has sold all but 20 of the posters, which he keeps in his brother's shop in Champhai.

And though the lake lends itself to photoshoots of everlasting love today, historically and culturally, Rih Dil is associated with a far less happy occasion: death. In the pre-Christian Mizo belief system, the soul departed from its body and headed straight to Rih Dil, where it wandered with other souls for a few lonely days before returning to the deceased's village and home. There, relatives would keep a place at the table for the wandering spirit and offer it a plate of food every time they sat down for a meal, and ask the soul to partake of the food.

After three months of this vagabond afterlife, the soul would once again depart for Rih Dil, and from there on wander towards a mythical mountain called Hring Lang Tlang. After reaching the peak, the soul would pluck a mythical flower, Hawilo Par and would long for the past no more. It would then drink the pure and clear waters of a nearby spring, called Lungloh Tui or the water of forgetfulness, and the water would quench it of all desire to gaze back. Only then would the soul proceed towards the land of the dead.

According to Mizo historian B Lalthangliana, there was a reason behind this belief that Rih Dil was where the soul went to after death. The story goes that a group of warriors were hunting on the lakeside one day, and as night fell, one among them could not sleep.

As he lay awake, he heard voices. "He listened carefully and clearly and distinctly, he heard the voice of his wife saying regretfully, 'When I departed from my children, I did not tell them that I had hidden some dried meat in the new earthen pot not yet used for cooking, and that I had put some eggs in the bran in a bin behind the inner wall. And their father is away hunting big game'. He listened to the chatter of the spirits of the departed as they approached Rih Dil. When he went home, he found that his wife had died, and he also found the dried meat and the eggs exactly where she said she had hidden them," writes Lalthangliana in his book History and Culture of Mizo in India, Burma and Bangladesh.

Even today, a line of tall shrubs stand on the lakeside, its reflection on the still waters is referred to as Mitthi Pal – a fence for the dead. A rare wild bird, Mitthi Ar or the dead man's fowl, is said to be found only in that region. And though the Mizo community now is almost entirely Christian, the myth is referred to in Mizo songs and poems as the passage to the land of the death, and as a reference to dying and the afterlife.

But till that day arrives, Rih Dil and its heart-shaped banks promise new beginnings and, hopefully, eternal love.