By Sunetra Choudhury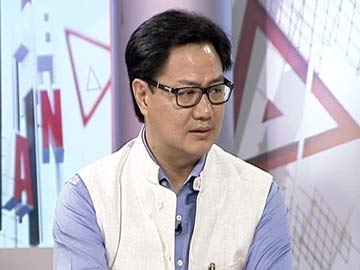 New Delhi, Sep 3 :
Minister of State for Home Kiren Rijiju has hit out at the UPA-appointed Governors who refused to be transferred to north eastern states like Mizoram. While appearing on a special show on NDTV, the minister who is from Arunachal Pradesh said those governors must "apologise to the nation."
"It is a very emotive issue for me. When a person is posted to the North East and he refuses to go there, that person loses the moral authority to speak on equality in the country. If people like governors and IAS and IPS officers will only choose serving in metropolitan and comfortable cities, then they don't deserve to be in their position,'' he said, adding that they should "apologise to the nation and to the people of the North East."
Recently, the NDA government first transferred Kamla Beniwal to Mizoram before sacking her and then sent Maharashtra Governor K Sankaranarayanan, who publicly admonished the government's decision. "Of course the Rashtrapati (President) has all the powers to transfer a governor, but then I thought it is not convenient...I decided not to go to Mizoram or any other state. I have my right to resign. I was thinking to resign since last three months," he said while explaining his decision to quit.
Since the BJP came to power, it has made it clear that it wants to replace nearly a dozen governors who were appointed by the previous government with its own nominees. Since May, many governors have either quit or have resigned after being transferred.
"Some of the governors are very pro-active. They interact with the people and take part in the developmental process. They are an inspiration to the people. But some of them unfortunately are not up to the mark as expected from the high office,'' he said.
In the same interview to NDTV, Mr Rijiju also indicated that the government was rethinking on the Armed Forces (Special Powers) Act or AFSPA. Referring to Irom Sharmila, Manipur's social activist who has been on a 14-year-long hunger strike to the demand the repeal of AFSPA from the state, the minister said, "She has created a deep impact. Look at the way she has fought for the cause for so long and i am optimistic that I will meet her."