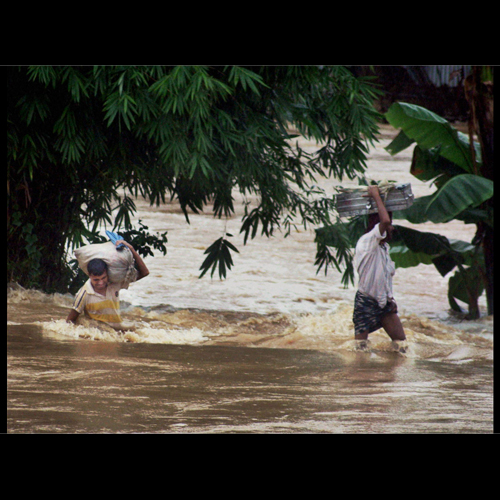 Two men wade through flood water looking for a safer location at Goalpara in Assam on Monday
Heavy rains across northeast India wreaked havoc triggering flash floods in several districts of Assam and Meghalaya, killing ten people and leaving scores homeless in the two states.
Seven persons were killed in Meghalaya's South West Garo Hills district after heavy rains lashed the area inundating over 100 villages and affecting over one lakh people, district Deputy Commissioner (DC) Ram Singh said.
"Seven persons have lost their lives in the floods with over 100 villages inundated and more than one lakh people affected," Singh said, adding the rains have led to flooding in the Ganol River badly affecting crops and livestock, besides hampering relief activities in the area. In the West Garo Hills district of the state, several villages have been inundated by the flood waters of Jinjiram River, the DC said.
The MeT department has warned of heavy to very heavy rains at a few places with extremely heavy rains at isolated places in Meghalaya in the next 24 hours. In the meantime, heavy rainfall caused severe floods in the state claiming three lives and leaving several villages in Goalpara, Dhubri, Lakhimpur and Kamrup (Rural) districts, besides Guwahati inundated. The Army, BSF and NDRF were assisting the district administration in rescue operations.
Hatsingimari and Mancachar in Dhubri district were the worst-hit with the BSF, NDRF and SDRF personnel evacuating over 5,000 marooned people to safer places, a Chief Minister's Office (CMO) spokesman said. A landslide claimed the life of a child in Hatsingimari area, district administration officials said.
In severely water-logged Guwahati, which is under Kamrup (Metropolitan) district, a body was recovered from Bharalu river flowing through the city, while a 71-year old man identified as Ashib Bhattacharjee was electrocuted in the waterlogged Netaji Road in Lalganesh area here, they said.
Kamrup Metropolitan district Deputy Commissioner M Angamathu said a relief centre with food and water has been set up for the succour of the people of Guwahati's Anil Nagar.
All education institutions in Guwahati have also been ordered to remain close tomorrow in view of the water-logging and the exams to be rescheduled, Angamathu said.
Chief Minister Tarun Gogoi, who is closely monitoring the situation, asked the Chief Secretary and the Deputy Commissioners of Dhubri and Goalpara to take all measures and evacuate the marooned people and move them to safer places with the help of personnel from NDRF, SDRF and other agencies, a CMO release said adding helplines with numbers - 0361-2733052; 0361-2237042 and 8811007000 have been set up for assistance to flood affected people in Guwahati.
Flood waters have also marooned over 30,000 people of 30 villages in the Kharkati and Borsola area in Lakhimpur district, the officials said. Forecasting no let up in the rainfall in the next two days, the MeT office said the south-west monsoon has been active over Assam, Arunachal Pradesh and Meghalaya since Sunday.
Light to heavy rains have occurred in several areas in Assam, Arunachal Pradesh, Meghalaya, Nagaland, Manipur, Mizoram and Tripura since yesterday, it said. A report from Aizawl said the Mizoram government has issued a warning in all the eight districts saying there is a possibility of extreme weather conditions in the state and neighbouring states during the next two days. The warning said heavy rainfall could hit northeastern states like Mizoram, Manipur, Nagaland, Sikkim and Tripura during September 23 and 24.