By Deepshikha Ghosh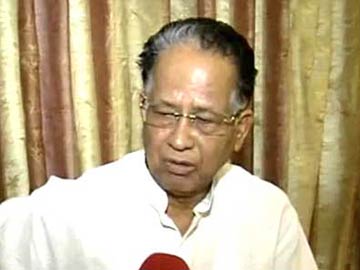 New Delhi, Aug 19 :
Assam Chief Minister Tarun Gogoi was harassed and abused by an angry mob and had to be rescued by paramilitary personnel.
Mr Gogoi, who was visiting a relief camp in Uriamghat for people affected by violence along the border with Nagaland, had to leave within 10 minutes. Personnel of the Central Reserve Police Force (CRPF) fired blanks in the air to disperse the mob.
15 people have died and some 10,000 displaced villagers have been driven to relief camps in a wave of violence by Naga insurgents last week in seven villages along the border.
These villages have both Nagas and Assamese people, but landowners do not have proper records.
Charred homes and scattered belongings are all that remain in the villages now. Those in relief camps accused the Gogoi government of failing to protect them.
The Chief Minister has sought Prime Minister Narendra Modi's help to restore peace in Uriamghat.
The border dispute began over 50 years ago over a patch of land claimed by a Naga and an Assamese land owner, when Nagaland became a separate state. The dispute continues despite a Supreme Court-backed mediation process.
The last round of mediation took place in Delhi over a year ago. A temporary pact places the disputed area under central forces but local people say they don't feel safe. Anger against the state administration boiled over today as protesters targeted Chief Minister Gogoi.