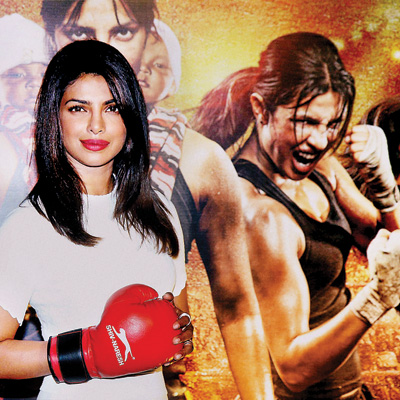 By Prasanta Mazumdar
Casting of Priyanka Chopra as Mary Kom triggered protests as there were demands that only a girl from the region should essay the role Mary Kom is a legend in Manipur and India. Yet a movie made on her life is unlikely to be screened in her home state where the militants gave banned the use of Hindi, specifically Hindi movies.
The makers of the film "Mary Kom" are optimistic about its screening in the state and learnt to have been in touch with the state government.
But, so far, there has been no official word on the matter. Calls made to Manipur chief secretary PC Lawmkunga's mobile went unattended.
"We are planning to screen it in Manipur. So, we are in touch with the Manipur government," Neerav Tomar, chief executive officer and managing director of IOS Sports and Entertainment, told dna. The company manages Mary.
The film is set in Manipur and highlights the rise of the five-time women's world boxing champion and Olympic bronze medalist. The biopic, produced by Sanjay Leela Bhansali and directed by Omung Kumar, is set for countrywide release on September 5.
The film stars actress Priyanka Chopra, who spent a lot of time with Mary to understand her and style of boxing. When she was cast, it triggered protests on the social networking sites with demands being raised that only a girl from the region should play the role.
The uncertainty on the screening of the movie in Manipur has saddened Mary and her family among others. "I will feel bad if the movie is not released in my state," Mary said. Her husband, Onler Kom, expressed a similar sentiment. "We will be very sad if it is not screened in Manipur. One must understand that the film is about Mary's life, family etc," he said.
Asked if the family will make an appeal to the militants, Onler said, "They have already learnt that we want the movie to be screened in Manipur".
The Manipur film industry is equally upset. "The people in Manipur are passionate about the film. They want to see it. But Hindi is the problem," said Epu, general secretary of Manipur Film Forum. "Why is the ban on the screening of Hindi movies in theatres when the satellite channels are beaming them in the state?" he argued.
"Whether it is screened in Manipur or not, I am sure copies of the movie will go viral in Manipur," said N Ibungochoubi, a writer.
Extremist group Revolutionary Peoples Front, fighting for the sovereignty of Manipur, had in 2000 issued a notice banning the use of Hindi and screening of Hindi movies for allegedly destroying Manipuri culture and language. Ever since then, movie theaters in the state have stopped screening Hindi movies.
Source: DNA