By Suanshu Khurana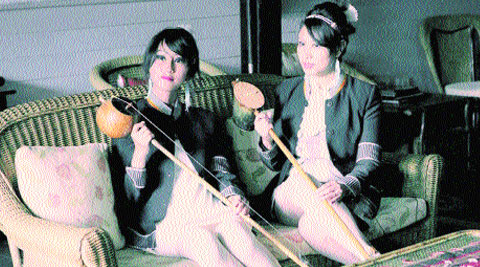 Still from Songs of the Blue Hills
Summary
Film-maker Utpal Borpujari's documentary, Songs of the Blue Hills, seeks out lost Naga folk songs and finds their revival among younger musicians
While setting chords to their famous hymn-like 1960 track, Let it be me, the rock 'n' roll legend The Everly Brothers, not even in their wildest dreams, thought that a tribal folk song in India's Nagaland would have the same chord structure. As for the contours and trajectory, they never factored those in either. The song reached the seventh position on Billboard charts as the English duo transformed popular music of the '50s and '60s to create a musical legacy with those gorgeous riffs, unique harmonies and "foreverly" arrangements. Even as they were making their way to the Hall of Fame, far away in Nagaland, Hoya He, a song from the Chakhesang tribe, was getting erased from our musical consciousness. So when Nagaland's classical pianist Nise Meruno plays and croons both the songs in quick succession, highlighting the similarity between the music from two different worlds — one from the American idiom of popular music, and the other which is not so popular in Indian consciousness, one is intrigued to find this folk song's relevance in today's time. Thus begins a journey, which is the subject of filmmaker Utpal Borpujari's documentary, Songs of the Blue Hills.
Delhi-based Borpujari's feature-length documentary takes one through the music of various Naga tribes. The film by the Centre for Cultural Resources and Training, which was shot and completed last year, is in the competition sections of international film festivals at Gothenburg and Washington this year and is being screened at Eyes & Lenses: Ethnographic Film Festival, Warsaw and Ladakh International Film Festival. "I have always been interested in tracing the roots of music. This endeavour was to understand and find more and see what it would throw at me," says Borpujari.
The film seeks out folk songs of the Nagas that are lost or have trickled down to the next generation. The arrival of the British over a century ago was culturally helpful in some parts of the nation (they facilitated many musicians such as Gauhar Jaan find fame by allowing them to record), while they banned folk music of the Naga tribes calling it spirit worship. "I'm a Christian and we were told that we would rot in hell if we would sing our folk songs," says Guru Sademmeren Longkumer, a veteran Naga folk musician, in the documentary. But he secretly documented some music over a period of time and created collections. However, reading them was not easy since the Ao tribe had their script written on leather strips. "Dogs ate them," he says.
"The Nagas have faced many socio-political issues. Most tribes would remain within themselves and not have anything to do with other tribes or the rest of the world. Since the songs were orally passed down, many got lost in the process," says Borpujari, 45, who has included almost 20 songs from the Naga folk culture in the documentary. He met bands such as Purple Fusion and Tetseo Sisters, who are reviving their legacy by combining folk with pop, blues and jazz. "Some veteran folk musicians have a problem with musicians wearing cowboy hats and 'mixing' their music, but younger musicians believe that this is one way that their legacy can be revived," says Borpujari.
Collaborations and fusions aside, some banned folk songs are also finding their way into choral hymns, which were considered sacrosanct once upon a time. One finds various choirs including the one in Nagaland Music Conservatory using lyrics and tunes from their folk songs and singing them in hymn-like structures. "The young generation of musicians are allowing this oral legacy to flourish, even in choral singing, where it was once prohibited," says Borpujari.