By Zoya Anna Thomas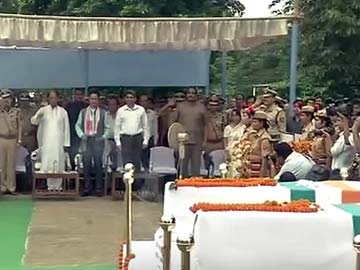 Guwahati. Jun 9 :
Four policemen were suspended today for allegedly abandoning a top cop during an encounter with militants in Assam.
Nityanand Goswami, the Superintendent of Police of Assam's Hamren police district was killed in an encounter with militants in the Karbi Anglong district on Thursday. He was leading three police parties in an operation against Karbi People's Liberation Tigers (KPLT) in a remote forest area, when they came face to face with a large group of militants who opened fire on them.
The police team retaliated and in the ensuing encounter, Mr Goswami and his personal security guard were killed.
Mr Goswami's son demanded that a CBI inquiry be launched into the incident. "I demand CBI inquiry, I want to know what happened to my father," he said.
Meanwhile, Minister of State for Home Kiren Rijiju and Assam chief minister Tarun Gogoi today joined a host of senior government officials and police officers in Assam to pay last respects to Mr Goswami.
Mr Rijiju said, "I have come here to give condolences to my senior officer and PSO who lost his life in such a tragic incident. I have come here on behalf of Rajnath Singh and the Central government."
The KPLT was formed in 2011 to demand that an Autonomous Karbi State (AKS) be carved out of Assam.
It is a breakaway anti-talks faction of the ethnic insurgent Karbi Longri NC Hills Liberation Front (KLNLF).