By Alok Pandey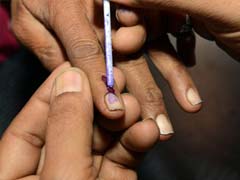 Aizawl, Apr 7 :
The north-eastern state of Mizoram sends just one Member of Parliament to the Lok Sabha. But this election season, the state may witness an unprecedented situation on polling day.
Youth organisations, NGOs and women's groups in the state -- all extremely influential -- are set to enforce a 72-hour-long bandh from Monday morning, which will extend till the polling day on Wednesday, April 9.
In state capital Aizawl, announcements are being made over loudspeakers, urging people not to venture out of their homes till April 10. All government offices are expected to remain shut.
Teams from the Election Commission are scheduled to travel towards polling booths in far-flung and hilly areas of the state from Monday morning, but doing this now seems to be a big headache for both the Mizoram government and the Election Commission.
These organisations are angry over the Election Commission's decision to allow Bru refugees, who escaped from Mizoram to the bordering state of Tripura nearly 17 years ago in the wake of ethnic clashes with the majority Mizo tribe, to cast their votes through postal ballots from relief camps in North Tripura.
Of the 36,000 Bru refugees living in Kanchanpur and Panisagar refugee camps in Tripura for the last 17 years, nearly 11,500 are listed in Mizoram's electoral rolls and they have already cast their vote through postal ballots this week
Mizo organisations, which are enforcing the bandh across the state, say that all the Bru refugees in Tripura's relief camps should have been sent back to Mizoram ahead of the Lok Sabha polls and asked to cast their vote from the state.
Members of the Bru community left Mizoram of their own free will and failed to return during several repatriation programmes organised by the Mizoram government, they claim.
On their part, Bru refugees in Tripura say the atmosphere in Mizoram is not conducive for their return as they are scared for their lives.