By Adam Halliday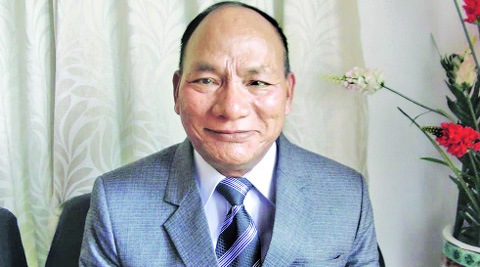 K Chhawnthuama
The "Phantom" is back to haunt elections in Mizoram.
Aizawl, Apr 11
: A video of him alleging the Congress rigged November's assembly polls triggered protest marches last week, demanding CM Lal Thanhawla's resignation. On Tuesday, police issued a statement (sources say it was ordered from the top of the command chain) declaring the man who has "worried the public and created a law and order situation" is the victim of a trickster. A defiant "Phantom" put up a second video on social media Wednesday, hinting at least three ministers may not have won those elections fairly.
All this comes ahead of Friday's election to Mizoram's sole Lok Sabha seat.
The "Phantom" episode had begun after the assembly election results when Lal Thanhawla got two text messages accusing him of rigging EVMs and bribing election officials. Both were signed "Phantom".
Police arrested K Chhawnthuama, a residential school owner, church elder and a man with no apparent political affiliations. After much speculation, rumours, an ongoing court case and TV interviews, he confessed to being the "Phantom".
Chhawnthuama, known for his school and a marble tomb he built for his wife on his 24-bigha hilltop compound overlooking Aizawl, has since amassed a large fan following. A "Mizo Phantom Fan Club" on Facebook has more than 35,000 members.
Chhawnthuama presented the first specific "evidence" in a video message aired by local channels on April 4. In the video, the "Phantom" says three computer experts, two of them Congress workers, had travelled from Aizawl to Lal Thanhawla's bastion Serchhip, broken open the lock and programmed EVMs with a "radio-wave machine" manufactured by a Malaysia-based company called Alcatel.
Later in Aizawl, he says, these experts did more manipulations on the third floor of a college used as counting centre. The "Phantom" also produces what he says was the broken lock and alleges the Congress spent Rs 1.08 crore on the rigging.
After the telecast, more than 100 people marched towards the CM's residence to demand his resignation. Police dispersed the marchers. The following day, the combined youth wing of opposition parties too staged a march in Aizawl.
In a press briefing, Home Minister R Lalzirliana said they would resign if the allegations were true, demanded that opposition leaders resign if they were not, and said Chhawnthuama appeared in need of psychiatric treatment.
From the opposition, Zoramthanga of the Mizo National Front alleged three elections (including the last assembly polls) had been rigged. And Lalduhawma of the Zoram Nationalist Party played on Chhawnthuama's "church elder" tag and invoked the mass agitation spearheaded by a Catholic priest that overthrew Filipino dictator Ferdinand Marcos in the 1980s.
A statement from the Aizawl SP's office Tuesday said ongoing investigations "appear to show" Chhawnthuama was tricked into believing false evidence by a serial trickster, Michael Chhakchhuak, for financial gain, a statement followed up by CM Lal Thanhawla in a press conference where he said he felt sorry for the "tricked" Chhawnthuama. Chhakchhuak's wife has since registered an FIR against the police for defaming her husband.
In a taped video freshly uploaded on YouTube, with transcripts disseminated through Facebook, Chhawnthuama has dismissed the police statement as a "lie".
A local editor has posted on Facebook, "Campaigning these days is more or less the song of the phantom."