By Binalakshmi Nepram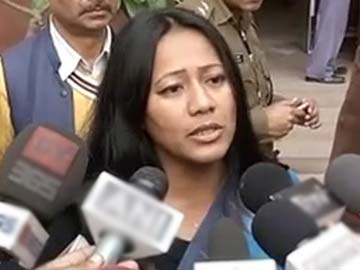 Binalakshmi Nepram is a writer and activist. She is the founder of Manipur Women Gun Survivors Network (MWGSN).

She met with Rahul Gandhi yesterday and Delhi Chief Minister Arvind Kejriwal today to demand justice for Nido Taniam, the 20-year-old who died after he was beaten up by a group of men at a South Delhi market.

This is Binalakshmi's blog (as told to ndtv.com).
Nido was a victim of racial profiling. A lot of young boys and girls are victims - everyday. I'm a victim myself. Just now, I was waiting for an auto-rickshaw and 6-7 empty autos went by without stopping for me. There are many, many cases but they are not reported. We are called 'Nepali dhanda karne wale, you bloody chinki'. Has a person from Kashmir or Chennai ever been beaten to death in Delhi? Delhi, unfortunately is the worst. So many kids come here from the North East for higher education and this is the kind of discrimination they have to face every day.
We met yesterday (Monday) with Mr Rahul Gandhi. He was very upset and assured us that there would be a committee like the Justice Verma Committee that was constituted after the Delhi gang-rape to look into Nido's case. He also admitted that this was a case of racial discrimination. Mr Kejriwal joined us in our protests at Jantar Mantar today.
When we met Mr Kejriwal yesterday, we advised him to form a special committee - on the lines of the Justice Mehra committee - only for Delhi and the National Capital Region. He liked the idea. The Delhi government has to ensure this happens and look at different cases of racial discrimination.
60% of the North Eastern kids who leave their hometowns are in Delhi. The Delhi Education Minister should ensure that the culture, tradition of the North East is a part of the curriculum of Delhi schools so that there is no prejudice...so we are not looked at as aliens.
A helpline which was launched some years ago to receive calls for help from North Eastern students doesn't work at all. It is manned by the Delhi Police and the Delhi police itself is biased. Most of the policemen are from Haryana - they are extremely racist. It would help if the Delhi Police recruited some people from the North East.
The government must focus on the formation of an anti-racial, anti-discrimination law. We don't have anything of the sort at the moment. And we need a special fast-track court to try these hate crimes.
In Delhi, we face violence, sexual assault. There is verbal abuse and taunting. It is rampant, it happens at every moment.
There is a fear psychosis in the minds of many young people who study or work in Delhi. We tell them only cowards indulge in this kind of racial discrimination. Delhi doesn't belong to a single community. We have requested the Ministry of Home Affairs to tighten security.
This is my message to youngsters from North Eastern states living in Delhi. This city is as much as yours as it is of other citizens. Only cowards do these kind of racial attacks. Please do not be scared or intimidated. Cases are being solved. Delhi belongs to everyone.