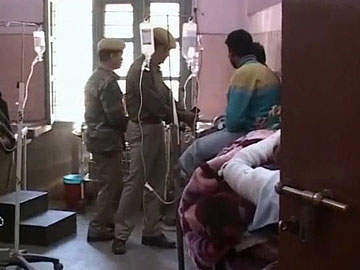 Imphal, Nov 11 :
Manipur's Home Minister and Director General of Police visited an Imphal hospital where victims of Manipur's latest explosion targeting migrant labourers in Chandel are hospitalised. One person died in the explosion and six others were injured in the blast. The visit means little to 28-year-old Nirmal, a migrant daily wage labourer from Assam's Silchar town who was injured in the attack.
"We were in a room. We had slept and then there was a loud explosion. We realised it was a bomb and my cot overturned too," says Nirmal, who has been living in Manipur's Chandel district for the past three years.
Over the last two months, insurgent outfits in the state have stepped up their attacks on migrants, including labourers, asking that all migrants leave the state by December 31. The most vicious attack took place on September 14, when an Improvised Explosive Device or IED exploded inside a tin shed in Imphal. Of the nine people killed, eight were migrant labourers
Since June this year, more than 15 migrants have been killed in explosions and many more attacked and injured.
With the migrant community being targeted, people like Satya Deo Yadav, a daily wage labourer from Gorapkhpur who's spent more than 10 years in Imphal now, want to head back home. "We will pack our bags and leave soon. The government is not doing anything. They can't catch the insurgents and they can't convince them not to attack," he says.
Manipur's Home Minister Gaikhangam says the government and the police are acting and trying to control the situation. But when asked to specify these steps, he refused to share the details.
For many migrants in Manipur, staying on in Imphal is more a matter of compulsion and employment than choice. Insurgent outfits in the state say they are only targeting illegal immigrants from Myanmar and Bangladesh and not legitimate Indians. However, the evidence on the ground, seems to point to the contrary.