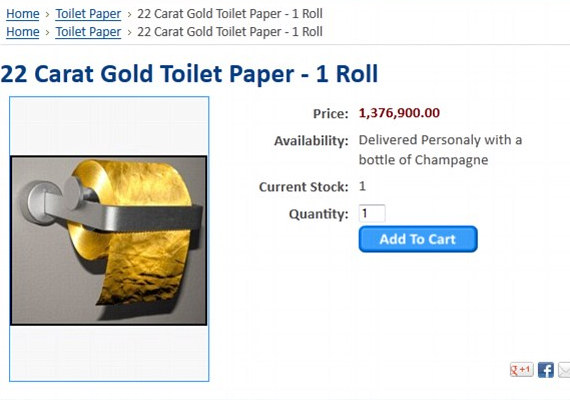 New Delhi, Oct 24 :
Would you want to make your butt shine with real gold? If your answer is yes then you better be uber-wealthy to afford such a luxury.Australian company the Toilet Paper Man has launched a toilet paper roll, made from 22-carat gold, at a jaw-dropping price of Rs 8.2 crore.
The website claims that each roll - which comes with a free bottle of champagne - will be delivered personally.
If you thought that the gold may not give the comfort of a normal toilet paper, then think again. The roll three-ply to ensure the utmost comfort.
According to its creators the idea of gold toilet paper came from some Dubai hotels which have full gold toilet seats and handles.
The company says it took four years to make one such roll which has gold flakes through it.
"As you use the toilet paper 22-carat gold flakes will fall onto the floor and your behind taking you to another level of sophistication," the company says.
The company further adds that the toilet paper is 100 per cent safe and usable. Due to complexity and man hours required to product one such roll, till date the company has produces only one such roll.
Surely, there couldn't be a better gift than this for those who want to leave their guests awestruck.