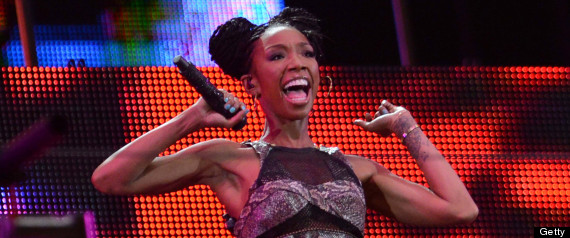 Brandy tried to bring her act to South Africa last weekend, but it almost didn't count.
The "Boy is Mine" singer took the stage at the 90,000-capacity FNB Stadium to a crowd of merely 40 people. Brandy was intended as a surprise performer during the music portion of the Nelson Mandela Sport and Culture Day, but the surprise element didn't work out in her favor. Attendees didn't know to expect the singer, and they poured out of the stadium after a series of performers -- David Jenkins, Elvis Blue, Salif Keita and D'Banj -- played sets before Brandy.
South African singer Kabomo witnessed the travesty and had this to report:
Not only did Brandy not have viewers in the stadium, but
she was snubbed on TV as well
. SABC, South Africa's national channel, ended its broadcast of the music performances before she took the stage, The Guardian reports.
Although Brandy's latest album, last year's
"Two Eleven,"
didn't chart as high as previous efforts in the U.S. or the U.K., her popularity in Africa endures, despite her latest bad news. She has performed there for years, and her 1998 album "Never Say Never" remains an R&B classic. Better luck next time, Mrs. Norwood.