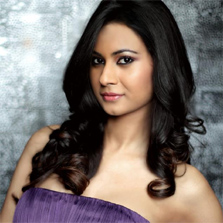 Kolkata, Feb 5
: After winning the tiara as the Femina Miss India (East), Darjeeling girl Sagarika Chhetri said she wanted to make the youth of her home town, and the North East in general, proud.
"People of my place are happy. I will try to make the youth of my place, and the north-east proud, I would try to make my co-contestants here, all very warm-hearted and simple girls, proud if I cross the final hurdle. I have to give it my best shot," said Sagarika.
She also emerged as winner in the Timeless Beauty and Miss Fashion Icon categories.
"One part of my dream has come to be true. I had always wanted to walk the ramp, face the judges and then wear the tiara. Now I don`t want to remain contented with that. I wish to be crowned Miss India-Universe or Miss India-World," Sagarika told PTI today before leaving for Darjeeling.
While Sagarika won Femina Miss India (East) title, popular Odiya actor Archita Sahu was crowned the first runners-up and Sukanya Bhattacharya of Patna became the second runners-up at the eastern leg of the pageant titled "Ponds Femina Miss India Kolkata (East) 2013" earlier this week.
The final round of the contest, where the three beauties will vie with others from other zones, will make them fight for the Miss Universe and Miss World crowns.
Archita said, "As of now I am the brand ambassador of UNICEF in my state. If I am known nationally I can be of use to similar social campaigns at a bigger level."
Archita, who idolized former pageant winner Priyanka Chopra and was floored by her acting in Barfi, said she would wish to emulate her.
The three girls were chosen from 10 contestants by a jury comprising cricketer Manoj Tiwary, singer Usha Uthup, and designers Agnimitra Paul, and Dev & Nil.
The 10 were shortlisted from over 200 in auditions, and the selection went on for four days of grooming.
"Kolkata always throws up one of the most daunting challenges to pick up the finalists and this time it was no exception. It was a tough, really tough call," Robinson said.
This would be the 50th year of the Ponds Femina Contest final round to be held in Mumbai.