By Kishalay Bhattacharjee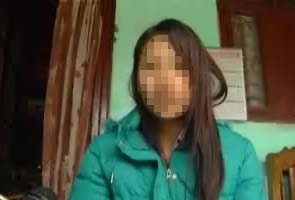 Chandel, Manipur:
Momoko, a popular young actor in Manipur, was headlining a fund-raising concert in the state's Chandel town when a man climbed onto the stage.
"He was touching me. I warned him. Then he pulled my hair and threw me on the ground and repeatedly kicked me. He also hit me in the left eye," she said.
NDTV does not reveal the identities of women who have been assaulted, but Momoko requested that her identity not be concealed. She says she is determined to raise awareness of the violence women confront alone even in crowded places.
The man who she accuses of assaulting her is Livingstone Anal, a leader of the once-banned National Socialist Council of Nagaland (IM), the armed militia now in a ceasefire with the government of India.
A co-performer who tried to help Momoko was shot at by Anal, but escaped unhurt.
Hundreds marched in the state capital of Imphal today to Chief Minister Okram Ibobi Singh's office, demanding action.
Home Minister Gaikhangam has promised action, but the militant leader is yet to be arrested.
"When we asked the securitymen why they didn't help, they said they are on ceasefire. Does that mean a woman gets beaten in front of the police and they do nothing?" asked the actor.
Ceasefire rules prohibit armed militant groups from moving around with arms, but across the region they violate this with impunity.