By Devidas Deshpande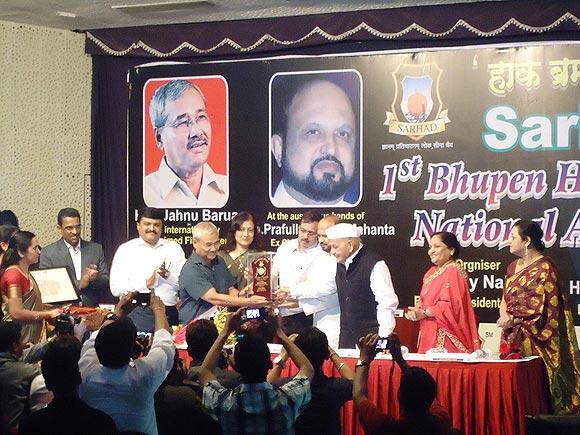 Director Jahnu Barua -- who made the award-winning 2005 film Maine Gandhi Ko Nahin Maara -- gets candid during an award ceremony in Pune. Devidas Deshpande reports.
Pune, Dec 4
: Even as he received an award in the name of his "Dronacharya-like guru" in Pune, acclaimed Assamese filmmaker Jahnu Barua revealed how he was once asked for his passport in Rajasthan.
"I have been through many such instances. People mistake us (
Indians from the north-east
) as foreigners and they can't be blamed totally. We also have to blame ourselves," he said, citing an incident in Udaipur, Rajasthan, when he was asked to present his passport at a five-star hotel.
"When I checked in, the receptionist asked me to present my passport. When I told her I was from Assam, she bluntly replied, 'I understand Sir, but we have a policy of asking passports from foreigners.'"
"The issue was not resolved even when I advised her to see the map of India. Later, it was resolved with the intervention of her boss," he said.
Barua received the first-ever award instituted by the Pune-based non-governmental organisation, Sarhad, on Sunday.
The award ceremony was held against the background of the brief exodus of Assamese and other north-easterners from Pune just three months ago.
"During the late 1970s," Barua said, "I did all the work for my production company. The owner of the studio -- where I gave my movie reels to develop -- thought I was a Nepalese working in my company. I did not try and remove his impression and built a good relationship with him since he was a good-hearted fellow."
"He got to know my real identity five years later through a newsreel playing in a movie theatre when I received the National Award. Had I reprimanded him for thinking me a foreigner, we could not have built a relationship," he recalled.
Recounting his meetings with the late maestro Bhupen Hazarika, Barua said even though he met Hazarika just 10, 12 times, he had a close relationship with the composer and was a 'guru' in a way for him.
"He (
Hazarika
) told me that 'If you are scared, you are not a creative person'," Barua said.
Describing Maharashtra as his second home, the Mumbai-based Barua recounted some humourous anecdotes from his early days at the Film and Television Institute of India in Pune.
"I spent three years in Pune -- they were the best years of my life," he said, narrating how he spent three nights in a garden in the city. Many years later, he showed the bench where he had slept during those nights to his wife.
Photograph: Jahnu Barua receives the award from former Assam chief minister Prafulla Kumar Mahanta (partly seen).