By Kishalay Bhattacharjee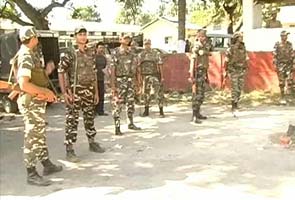 Guwahati, Nov 16 :
Two months after Assam witnessed its worst ethnic violence in a decade, the epicentre of those riots, in which more than 99 people were killed and five lakhs displaced from their homes, is simmering again.
The town of Kokhrajhar and one its subdivisions Gossaigaon - one of four regions that forms Bodoland and is governed by the autonomous Bodoland District Territorial Council - is under curfew again.
Prime Minister Manmohan Singh, who is a Rajya Sabha MP from the Assam, called up Chief Minister Tarun Gogoi this evening and assured the state government all help in restoring peace and normalcy in the affected region.
This morning, Abdul Kalam set up shop in the town centre at the weekly market to sell his vegetables. Suddenly, he was stabbed by a group of young men. He is in hospital now, recovering from those injuries.

On Tuesday, as Diwali was being celebrated in the Salbari village in Kokhrajhar, armed men opened fire. 35-year-old Shaira Begum, who had just finished cooking dinner, was shot inside her home. The neighbouring Rabha households, indigenous tribals, were at the local Kali puja and at first mistook the gun shots for fireworks but soon arrived to help. One of them was injured with a blunt weapon.

Today, not far away in Telipara, Gossaigaon, a Bodo person was shot dead.

In the last week, six people have died from the local Bodo and Muslim communities.

The attacks, local officials say, signal renewed tension between the indigenous Bodos and Bengali Muslim settlers. In July and August, the ethnic violence that erupted here caused fierce aftershocks in cities like Bangalore and Hyderabad- text messages warned North Easterners living here that they would be punished in retaliation for the killing of Muslims in and around Kokhrajhar. Thousands of people from states like Assam and Manipur boarded trains home.

The politics of Bodoland is embedded in land and population issues. The Bodos believe that wave after wave of Muslim immigrants are robbing them of their land. On the other hand, non-Bodos argue that the autonomous council skews power towards the Bodos.

The changing demographics and the competition for agricultural land intersect with violent force and lately, with worrying frequency.