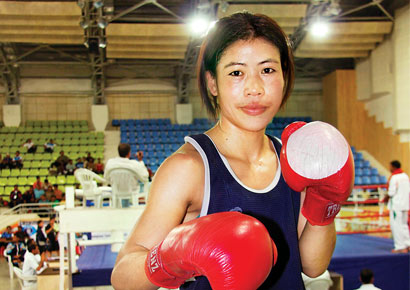 By Jayoti Soor
Bollywood filmmaker Sanjay Leela Bhansali and MC Mary Kom, ace boxer who has become a national hero after winning the Olympic bronze, arrived at an agreement to make a film on her life on Monday.
"The film is still in its infancy. So they wanted my inputs for the script and the rest of it, I leave it in the hands of professionals as they know the art of film-making better," says Mary with a smile.
Mary hopes that this biopic serves as a source of inspiration to youngsters. "I hope that this film inspires aspiring sportspersons to take it up professionally and represent India at an international level," says the mother-of-two at the Moms For Playgrounds, an initiative to raise awareness for the need of open spaces for the children of Mumbai.
"When I won the Olympic medal, I represented India. So, I want this film to bridge the gap," says Mary Kom, who hails from Imphal and has been saddened by the recent exodus of the north-east people from the Indian mainland.
Hindi films have been banned in Manipur and Mary believes that when the film will be released, things will change for the better.
"It is based on my life and my struggles. As it is rooted in reality, I hope that the film will be welcomed in my homeland. And I wish it serves as a beacon of light for a lot of youngsters, who due to lack of infrastructure give up on their dreams," she says with a confident smile.
The boxer loves playing guitar in her spare time and unwinds watching mushy movies or romcoms.
"Shah Rukh Khan is my favourite in romantic movies and Abhishek Bachchan has a unique sense of timing for comedies," grins Kom. She's also quite impressed with actor Deepika Padukone.
"Deepika has a keen interest in sports and we shared a few laughs at a recent event," recalls Mary.