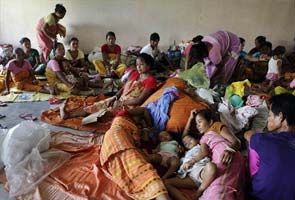 By Alok Pandey
Chirang, Assam:
At a relief camp set up at the Bidyapur High School in Chirang, Assam, 55-year-old Abdul Jaleel is very angry when asked what he thinks about the demand of Bodo leaders and the BJP that only those with Indian identity papers among minorities at relief camps be allowed to go home.
Abdul has no papers to prove he is Indian. He says all his papers were burnt by those who attacked his village in the adjoining Chirang district 15 days ago, forcing all families to flee the village. Of the 3000 odd people who have taken refuge at this relief camp after ethnic violence rocked lower Assam since last month, almost 2000 are adults. They all live, with 1200 children, in five classrooms. Not one adult seems to have papers to prove identity.
Muslims like Abdul living in relief camps in the strife-torn Kokrajhar region face allegations that all of them are illegal immigrants from Bangladesh. In faraway New Delhi today, BJP leader LK Advani accused the Congress, which rules both at the Centre and in Assam, of indulging in vote-bank politics by allowing illegal immigrants to cross the border. This, he said, was the root cause of the riots that have torn Assam apart over the last month.
At Jantar Mantar in the capital, Mr Advani's party joined Bodo leaders at a dharna. Speaker after speaker said that while the Bodos are willing to accept those who came into Kokrajhar and other areas before the 1971 war, those who came thereafter are not welcome.
There are almost 400,000 displaced people in lower Assam crowding ill-equipped relief camps after they fled their villages as intense clashes broke out between Bodos and Bengali speaking settlers last month. About two-thirds of that massive number are Muslim. To segregate people at minority camps on the basis of when they crossed over will be an impossible task.
At the Bidyapur school camp an agitated Shahbuddin, 25, wants to know why this reporter is asking about identity papers. The mistrust runs deep. "Go and ask the government or the Bodo Territorial Council administration," he says. "All of us voted for this government and administration. At that time we were not Bangladeshis. How have we suddenly become Bangladeshis now? Not one person in this camp is a Bangladeshi," he asserts.
Ten kilometres away, the atmosphere is much the same at the Dhantola minority relief camp, if not more tense. That tension has been caused by Assam Chief Minister Tarun Gogoi saying on Tuesday that only bonafide Indian citizens will be rehabilitated.
"Will Mr Gogoi personally visit this camp to segregate Indians and Bangladeshis at the camp, asks Maqbool Hussain. "I dare him to come", he says angrily. "Look, we all voted for the Congress. We had all our papers till they were systematically burnt. Now we have nothing. But the government knows, they will have proof of our Indian identity." And then, he adds bitterly, "If Gogoi comes, I will teach him a lesson."
Displaced and frightened, people at these camps are forced to live in filthy conditions. Most children at the Bidyapur camp are suffering from diarrhoea and dysentry. Doctors have visited, but they are stretched. Assam's government says there are 117 doctors to take care of over the lakhs of people still living in relief camps.
The only solution to this misery that Mr Gogoi has offered is the hope that people will return to their villages by August 15. Mr Gogoi says police pickets are being set up in sensitive areas and this will give confidence to people to return to their homes. But Abdul Jaleel, Shahbuddin and Maqbool Hussain don't know when they will be rehabilitated.