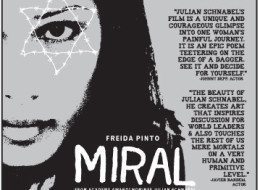 Several of Hollywood's biggest names are coming out in support of Julian Schnabel's controversial new film "Miral," with quotes from Johnny Depp and Javier Bardem featured in a new ad for the film in the Los Angeles Times.
Schnabel wades into the ever-simmering Israeli-Palestinian conflict in his new film, "Miral"; based on the semi-autobiographical book by Rula Jebreal, "Miral," a new Weinstein Company release, tells the story of an orphaned Palestinian girl (Freida Pinto of "Slumdog Millionaire") who finds herself thrust into the ethnic and political conflict once she leaves her safe orphanage. A number of Jewish groups have protested against the film, including asking the UN not to show it at a recent screening.
Their sentiment is not shared by a number of other Jewish groups, or by many in both the film and political studies worlds.
"Julian Schnabel's film is a unique and courageous glimpse into one woman's painful journey. It is an epic poem teetering on the edge of a dagger. See it and decide for yourself," Depp says, focusing on the personal aspect of the story.
Oscar winner Javier Bardem is also quoted on the poster, saying, "THE BEAUTY of Julian Schnabel, he creates art that inspires discussion for World leaders and also touches the rest of us mere mortals on a very HUMAN and primitive level."
In quotes exclusive to The Huffington Post, academics and other actors praised the film for its tackling of the greater political conflict.
"Schnabel's 'Miral' is a resolute act of truth and reconciliation, a visual pilgrimage—to Palestine, to find peace in the forgiving landscape of an unforgiving history that must one day overcome itself," says Hamid Dabashi, Professor of Iranian Studies & Comparative Literature, at Columbia University. This is more than a film. This is the overcoming of a psychological barrier—for a filmmaker to bring two bereaved peoples finally together."
Similarly, Sir Norman Rosenthal, former Head of Exhibitions at the Royal Academy, also spoke to its importance in an ever burning discussion. "'Miral' is a beautiful, compelling, imaginative exercise in film as well as a significant contribution to the discussion of one of the burning issues of our time."
Filmmaker Schnabel wrote about the film for The Huffington Post, writing, "The heart of this story is all about the lasting impact of education and the journey of a relatable main character, who tries on several different approaches to solve the problems in her life, including violence, but in the end, falls back on the ideals she learned as a child. This is, in my humble opinion, an exemplary message for our time, especially for young people -- whether they live in Brooklyn, Jerusalem, or anywhere in between."