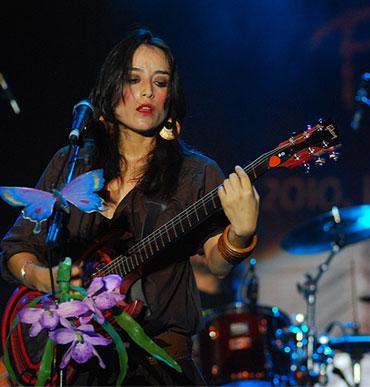 Soulmate from Meghalaya is belting out 12 bars across the globe. Sumit Bhattacharya listens in.
A band from northeast India belting out the blues on the banks of the Potomac in Washington, DC? Rudy Wallang and Tipriti 'Tips' Kharbangar, who call themselves Soulmate, will do just that at The John F Kennedy Center for the Performing Arts' Terrace Gallery on March 4.
"We are leaving for the US on the 2nd or 3rd, playing on the 4th and heading back on the 5th," says Wallang, one of India's most respected guitar players who has been performing for over two decades. "What a waste of money on travelling!"
Last year, the duo from Shillong, the capital of Meghalaya, has 'wasted' a lot of money on travelling, performing in Indonesia, Singapore and France, besides 14 Indian cities and five American cities.
"And, if I might add, a little jam in New York City with Slam Allen and his band," says Wallang, rounding off his e-mail-interview answer with a smiley.
In 2007 and 2010, Soulmate made it to the semi-finals of an international blues competition in Memphis, Tennessee, where they were the only Indian band in over 150 participants. This year, they will open for blues legend Buddy Guy in Mumbai.
Image: Tipriti Kharbangar
Photographs: Jazzuality / Creative Commons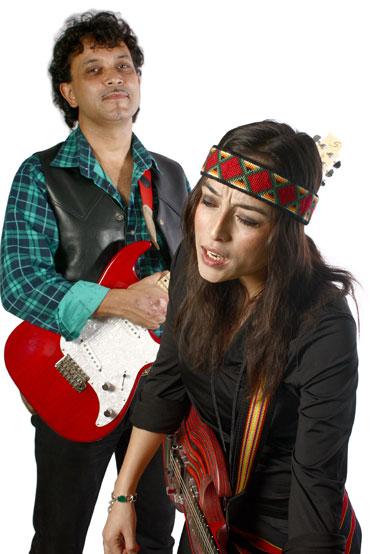 Soulmate, 8 years old, was formed after Wallang met Kharbangar at his studio. She had come to sing for a gospel album. "I was smitten," says Wallang. "By her voice at first, then we became friends. Slowly, it developed into love."
Both have music in their DNA. The first musician Wallang saw live -- at about age 5 -- was his father Toto Wallang, who sang at Trinca's on Kolkata's hip-nerve centre Park Street in the late 1960s and early 1970s. Kharbangar's dad Michael Wahlang played part-time with local bands in Shillong. She sang in church as a child.
"My voice was louder than the others," she says, "so the choir master would put me in the back; or wouldn't let me sing at all!"
That powerful voice, coupled with a commanding presence and the chemistry she shares with Wallang's wailing guitar, helps the band on stage -- whether they are belting out numbers from their albums Shillong and Moving On or reinterpreting legends like Jimi Hendrix, BB King or Stevie Ray Vaughan. The music is raw, sensual, dripping oomph.
It's the blues, alright.
Image: Rudy Wallang, left, and Tipriti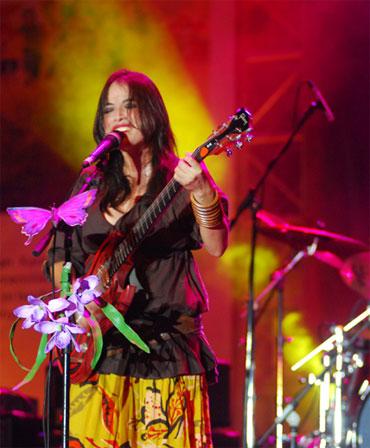 Wallang, who says he is "48, going on 17", and Khabrangar, 28, hire session musicians as required. For now, his son Leon, 22, plays the bass, while two other old friends fill in on bass and keyboards. The band was christened after Wallang wrote a song called The Blues Is My Soulmate.
But, why the blues?
"Like Cheech Marin (of Cheech 'n' Chong fame, the original Harold and Kumar, if you will) would have said, because hahahahaha!" quips Wallang. "But, seriously, I'm still trying to figure out that one myself. Something about the music that is passionate and real you can't fool the blues. There's nothing like standing out there in front of people and baring your soul, getting emotionally naked in public!"
Soulmate's albums were released by the record label wing of the Blue Frog, a Mumbai pub/night club making waves across the musical world by hosting musicians ranging from jazz-guitar god John McLaughlin to electronica pioneers Shpongle to US desi dance rockers Bamboo Shoots.
"I don't have any idea about how our albums are doing," Wallang says with signature candour. "We're just happy playing."
He has been doing that for a while. In the 1980s, he was part of Great Society, a band from Shillong headed by the charismatic frontman Lou Majaw. Majaw's annual Bob Dylan festival has been featured in a BBC-Guardian documentary. And Majaw, with his shorts and mismatched socks and ball-lightning presence, is still singing across India, winning new fans.
Image: Tipriti Kharbangar
Photographs: Jazzuality / Creative Commons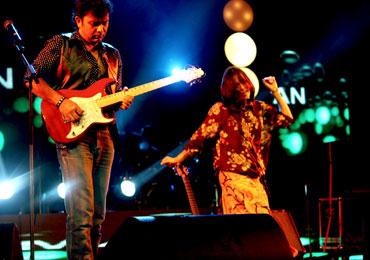 Why does Shillong -- where it is not uncommon to find Led Zeppelin blaring from taxis -- produce such passionate musicians? "Music is in the blood, man," says Wallang.
The story of rock/blues music in India is not new, but, like the India story, it is becoming better known in the new millennium. The northeast hills have always been alive with 'western' music. It's difficult to throw a stone in Kolkata without hitting a 'rocker'.
Delhi is India's concert capital. Mumbai's heavy metal scene is attracting niche magazines like Metal Hammer and Spin. Kochi progressive-rock band Motherjane have swept an indie award touted as the Asian equivalent of the Grammies. Bengaluru's funky boys Thermal And A Quarter have toured the United Kingdom.
"The live scene in India is really happening," agrees Wallang. "Musicians can finally earn their bread and butter making and playing music. Also, a lot of bands are playing their own music and being accepted for what they are. I guess the audience has matured and become more accepting of us. That's because the bands are more confident of themselves as musicians."
But anyone aware of the Indian rock 'scene' knows that like the country's GDP, the music is growing despite seemingly insurmountable hurdles.
"There are still people or organizations that want us to play covers," says Wallang. "The cost of flying has shot up. I wish the roads were good. Then, we could all travel by tour bus and be out on the road and do a long tour. Club owners would be able to afford bands and bands would get paid more. There is no industry as such, I feel, for western music (in India). Bollywood, yes, but not western music. There are a few good bands playing original music, no doubt, and a lot of really good musicians."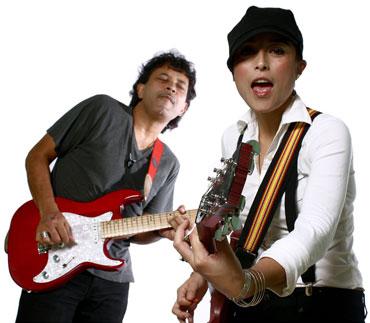 How has Soulmate captured international attention so fast? "I feel that people connect with us easily," Wallang says. "We make them happy and that is our satisfaction and joy. The money is a bonus. Also, we have had some really good support from the people at Blue Frog, especially Emma (nuelle De Becker, artist manager). A good friend of ours in Colorado, John Catt, has supported us ever since he heard us in Memphis in 2007."
Soulmate's hectic travelling has thrown up anecdotes. Wallang recalls Indigo airlines delaying a flight because the band was stuck in "the mother of a jam" en route to Guwahati from Shillong. But the band is "not in the 'star' league as yet," claims Wallang, with another smiley.
"I am able to take care of my family and provide them with the basic comforts of life," he adds. "And I'm happy, that's the most important thing."